We built a Thai Buddhist temple in an Edinburgh family home
By Angie BrownBBC Scotland, Edinburgh and East reporter5 hours agoAbout sharingHead monk Phramaha Prasert Prommala said he was proud of the work that had been achievedWhen plans for a huge Buddhist temple on the outskirts of Edinburgh had to be shelved, monks based in what was once a family home in the city decided to transform it instead.A renovation project at The Dhammapadipa Temple in Slateford saw a double garage converted into a prayer room complete with an 80 stone (500kg) gold-plated Buddha from Thailand.Now the three resident Theravada Buddhist monks are urging people to visit the temple to see the transformation.Members of the Thai community that settled in Scotland first established The Dhammapadipa Temple in 2005.Thai billionaire and former Leicester City chairman Vichai Srivaddhanaprabha had been behind a plan to relocate the temple to a bigger site in an A-listed property in another area of the city.However, after his tragic death in a helicopter crash at the football club's stadium in 2018 things changed.The house - with double garage - in Slateford before it was turned into the Dhammapadipa TempleKachen Gerdphol, chairman of temple, told BBC Scotland Mr Srivaddhanaprabha had been known for his great generosity to his Buddhist faith."He had found a big A-listed property in the south-east of Edinburgh and asked us to come and have a look to see if we liked it," he said."It was a very grand building and it was very expensive."The community decided that instead of moving to another site it would improve the temple's current base in an ordinary suburban home. "We really need to live within our means and if we had been left maintaining an A-listed building it would have left us very vulnerable," added Kachen Gerdphol."We love our temple in Slateford as it is easy to access for our monks and community."The kitchen where the three resident monks eat still looks the same from when it was a family homeHead monk Phramaha Prasert Prommala told BBC Scotland they were very proud of the results of the £50,000 renovation, which they completed earlier this year.Inside, the kitchen gives away that it was once a family home, as do the bedrooms until a closer look reveals there are no beds."Monks don't sleep on beds, we sleep on the floor," said Phramaha Prasert."We also don't watch television and any smart phones you see or technical equipment is used purely for giving talks."The floor has been raised in the double garage to make the prayer roomDownstairs, the space where a double garage used to be is now a huge prayer room.The garage doors have been replaced with large soundproof windows.The centrepiece on an altar is the 500kg gold-plated Buddha, which was shipped from Thailand and lifted into place using an ancient Egyptian-style lever and pole system.Phramaha Prasert said: "This was a massive logistical exercise. Knocking the wall down between the double garage was meant to take half a day for a couple of men but it ended up taking a team of six three-and-a-half weeks."There were steel bars through poured concrete and the construction workers asked if it had previously been a bank vault or a military room for explosives."We said no, it was just a family home when we bought it."The double garage has been converted into a prayer roomRunning along the edge, where the ceiling meets the walls is block cornicing, which Phramaha Prasert said was so that the temple remained "sympathetic to its Edinburgh location".But there is also traditional temple decor inside that was shipped from Thailand, such as a hand-carved door from Lampang.It was cut into eight pieces so it could be transported more easily before being stuck back together by Edinburgh joiners.Phramaha Prasert said: "Everyone is very generous in Thailand so this Buddha was donated to us."There were some nervous moments levering the Buddha into the prayer room while trying not to damage the ceiling."The hand carved door to the prayer room was transported from Thailand in eight piecesAn extension has also been added to make a second smaller prayer room with a £20,000 Buddha which was donated after being used in a Thai garden at the Chelsea Flower Show.The site was authorised to operate as a temple by the Thai Sangha Council, which is headed up by the Supreme Patriarch (head figure of Buddhism in Thailand).It was also blessed in a "new dawn" ceremony to complete its transformation into a temple.The city council approved an application for a change of use in order for the building to be recognised as a "place of worship".Head monk Phramaha Prasert Prommala said: "We have an open door policy to all, regardless of religious beliefs or age, and we want to invite anyone interested to come now and visit us."More on this story28 October 201831 October 2018Related Topics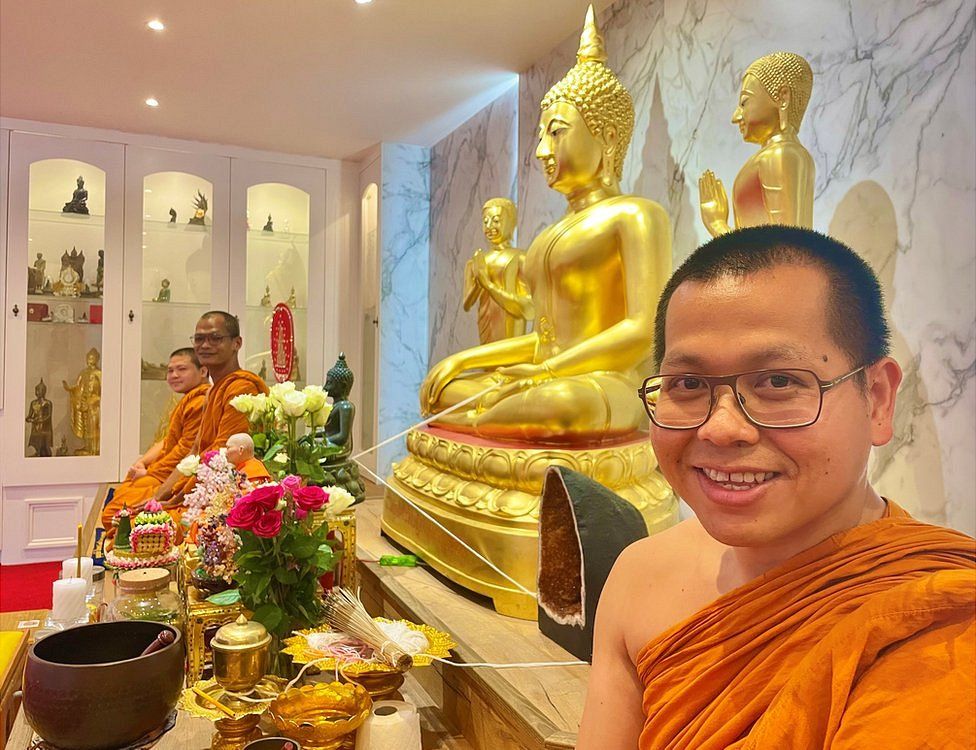 By Angie BrownBBC Scotland, Edinburgh and East reporter
About sharing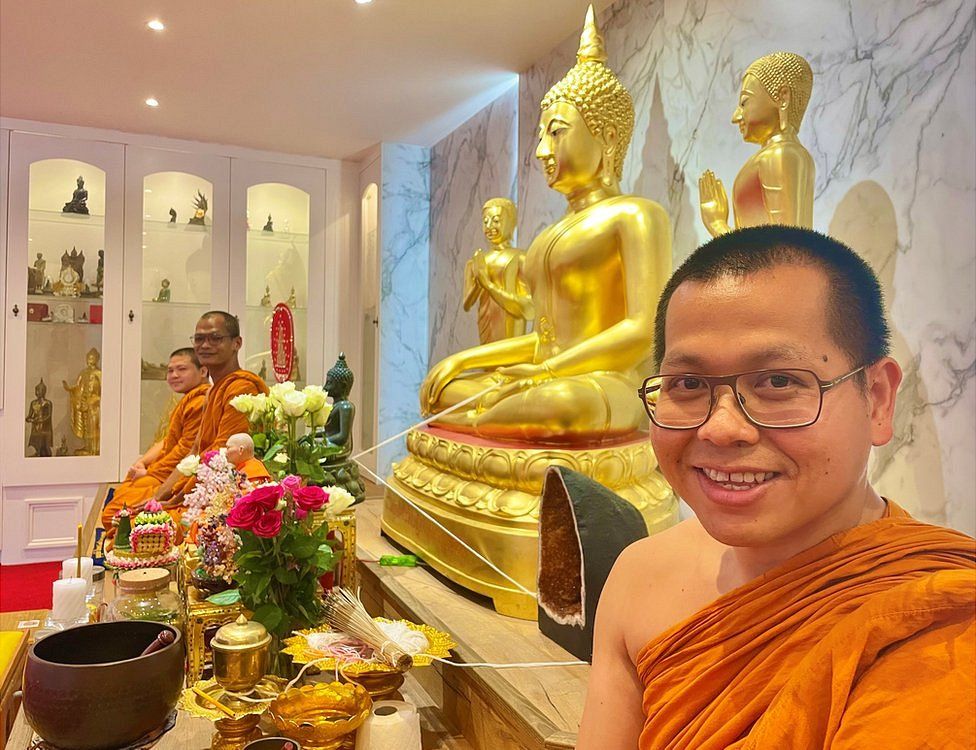 When plans for a huge Buddhist temple on the outskirts of Edinburgh had to be shelved, monks based in what was once a family home in the city decided to transform it instead.
A renovation project at The Dhammapadipa Temple in Slateford saw a double garage converted into a prayer room complete with an 80 stone (500kg) gold-plated Buddha from Thailand.
Now the three resident Theravada Buddhist monks are urging people to visit the temple to see the transformation.
Members of the Thai community that settled in Scotland first established The Dhammapadipa Temple in 2005.
Thai billionaire and former Leicester City chairman Vichai Srivaddhanaprabha had been behind a plan to relocate the temple to a bigger site in an A-listed property in another area of the city.
However, after his tragic death in a helicopter crash at the football club's stadium in 2018 things changed.
Kachen Gerdphol, chairman of temple, told BBC Scotland Mr Srivaddhanaprabha had been known for his great generosity to his Buddhist faith.
"He had found a big A-listed property in the south-east of Edinburgh and asked us to come and have a look to see if we liked it," he said.
"It was a very grand building and it was very expensive."
The community decided that instead of moving to another site it would improve the temple's current base in an ordinary suburban home.
"We really need to live within our means and if we had been left maintaining an A-listed building it would have left us very vulnerable," added Kachen Gerdphol.
"We love our temple in Slateford as it is easy to access for our monks and community."
Head monk Phramaha Prasert Prommala told BBC Scotland they were very proud of the results of the £50,000 renovation, which they completed earlier this year.
Inside, the kitchen gives away that it was once a family home, as do the bedrooms until a closer look reveals there are no beds.
"Monks don't sleep on beds, we sleep on the floor," said Phramaha Prasert.
"We also don't watch television and any smart phones you see or technical equipment is used purely for giving talks."
Downstairs, the space where a double garage used to be is now a huge prayer room.
The garage doors have been replaced with large soundproof windows.
The centrepiece on an altar is the 500kg gold-plated Buddha, which was shipped from Thailand and lifted into place using an ancient Egyptian-style lever and pole system.
Phramaha Prasert said: "This was a massive logistical exercise. Knocking the wall down between the double garage was meant to take half a day for a couple of men but it ended up taking a team of six three-and-a-half weeks.
"There were steel bars through poured concrete and the construction workers asked if it had previously been a bank vault or a military room for explosives.
"We said no, it was just a family home when we bought it."
Running along the edge, where the ceiling meets the walls is block cornicing, which Phramaha Prasert said was so that the temple remained "sympathetic to its Edinburgh location".
But there is also traditional temple decor inside that was shipped from Thailand, such as a hand-carved door from Lampang.
It was cut into eight pieces so it could be transported more easily before being stuck back together by Edinburgh joiners.
Phramaha Prasert said: "Everyone is very generous in Thailand so this Buddha was donated to us.
"There were some nervous moments levering the Buddha into the prayer room while trying not to damage the ceiling."
An extension has also been added to make a second smaller prayer room with a £20,000 Buddha which was donated after being used in a Thai garden at the Chelsea Flower Show.
The site was authorised to operate as a temple by the Thai Sangha Council, which is headed up by the Supreme Patriarch (head figure of Buddhism in Thailand).
It was also blessed in a "new dawn" ceremony to complete its transformation into a temple.
The city council approved an application for a change of use in order for the building to be recognised as a "place of worship".
Head monk Phramaha Prasert Prommala said: "We have an open door policy to all, regardless of religious beliefs or age, and we want to invite anyone interested to come now and visit us."
More on this story
Related Topics