Here's a sneak peek inside the new THB100 million housing phase at Bangkok's expat town
Here's a sneak peek inside the new THB100 million housing phase at Bangkok's expat townNicahda Thani has perhaps the most diverse assortment of residential options in all of Thailand. From modern houses to lakeside condominiums, Bangkok's expat town spans nearly 400 acres and has 50 sub-communities. But none are quite like its newest h…December 06, 2022
Nicahda Thani has perhaps the most diverse assortment of residential options in all of Thailand. From modern houses to lakeside condominiums, Bangkok's expat town spans nearly 400 acres and has 50 sub-communities. But none are quite like its newest housing phase, Nichada Onyx.
This recently launched collection of nine ultraluxury homes is a step forward for the developer. The goal was to create a phase that offered maximal luxury accentuated with features that address modern lifestyle requirements, such as assisted living, and supported by Nichada Thani's high-quality engineering and construction.
"Nichada Onyx is a phase that is nothing like anyone has seen before here at Nichada Thani. We wanted to keep the sound engineering works and systems while adding some flair to the design," Khun Nichada Changrew, CEO at Nichada Group, told Dot Property.
Of course, the star attraction of the newest housing phase at Bangkok's expat town has to be the art déco design that seems straight out of The Great Gatsby. Khun Nichada's own interest in this time period was a driving force behind Onyx. The challenge was combining the look and feel of that era with modern conveniences.
"We started with an art déco design that is influenced by 1920s architecture," Khun Nichada details. "I'm a fan of the classics and 1920s design. Art déco is something that will always be popular. But Onyx takes that flair and supports it with modern technologies and conveniences that can be used today and in the future."
A lot of effort has gone into making the homes at Nichada Onyx extremely livable, in addition to stylish. Examples of this include the striking tiles imported from Europe and the marble-inspired fittings and surfaces that are made from non-porous materials. This is important since it is easier to clean and requires far less maintenance. As Khun Nichada notes, these innovations make it is easy to keep your house clean while still having the flair.
The Onyx show house is simply a showcase of what your residence could be. The homebuilder is a huge proponent of customization and will ensure you can make it feel like your dream house.
"Our house design concepts are open plan because we feel all houses should reflect the owner, not the company building it. We provide a canvas for you to come in and make it your own," Khun Nichada points out.
Related: Learn about the developer curating a family-focused living experience in Bangkok
A different lifestyle
Like everything at Nichada Thani, an emphasis was placed on making sure Onyx was environmentally friendly. Efforts include private garden areas and modern innovations designed to help with electricity.
"We have always built with a focus on being environmentally friendly, having lush landscape and utilizing green areas," Khun Nicahda details. "At Onyx, we have incorporated solar panels that generate electricity into the project which is another step for us as a company."
This isn't simply marketing speak. Khun Nichada knows from experience just how effective these solar panels can be.
"Not only do I live here but I also test out most of the technologies we use at our projects. I feel like I have to test it out because I want to know it will be good for our residents. I have actually used the solar panels and some days I don't even have to pay for electricity," Khun Nichada reveals.
Those who live at Onyx will still be able to enjoy the family-friendly lifestyle that has defined Nichada Thani for more than three decades. Personally speaking, I love spending time here because there is a positive vibe you won't find anywhere else in Bangkok. Even though I don't live here, it still feels like home.
"One thing our residents love about Nichada Thani is the fact you can actually live here without needing to go into dense areas. You can buy groceries, go to school, work from home, shop and take part in numerous activities all without stepping a foot outside of the community," Khun Nichada said.
She continued, "We have dog parks and pet owners can enjoy the community here. We have monthly events, such as Halloween and Loy Kratong, where everyone comes out and has a good time. One of the great things about Nichada Thani is that it is a tight-knit community. You know your neighbors and we always have group activities. That is something that can't be built. It is something we have worked on."
Related: Leading homebuilders lobby banks to lower interest rates on energy-saving homes
A very special offer for Nichada Oynx, the new THB100 million housing phase at Bangkok's expat town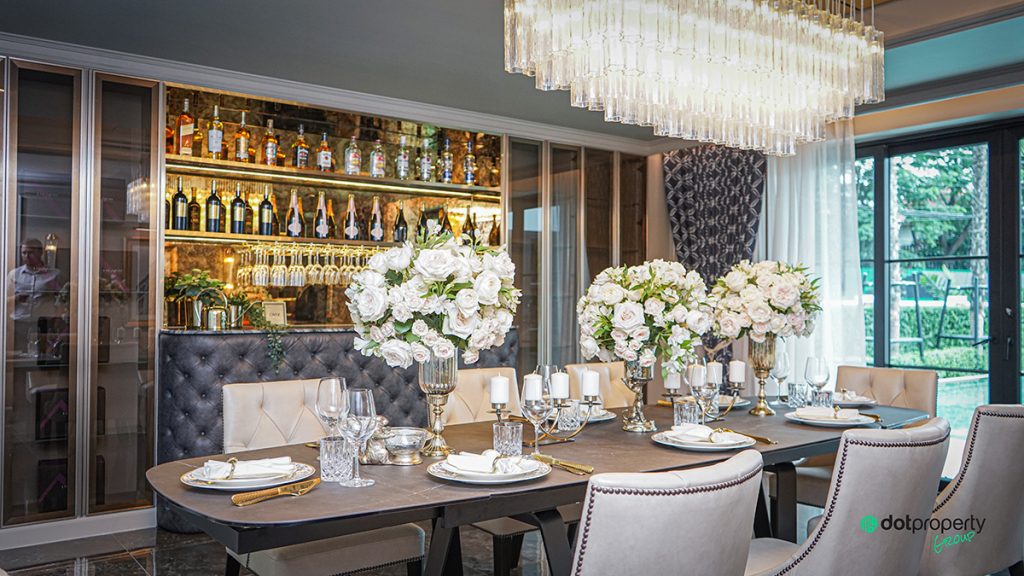 If you are looking for an exquisitely designed residence in Bangkok's best lifestyle community, Nichada Onyx is the place. Those acting today can take advantage of some very special promotions.
"From now until the end of the year, we are providing a THB2 million cash discount and also offering the solar panels that will efficiently save energy at no extra charge," Khun Nichada notes. "I am very proud of this project and all of the hard work our team has put into it. Everyone contributed. So, I really want everyone to come check it out because this is definitely different from what else we've done at Nichada. I encourage everyone to see the showroom for themselves."